What is BrightBrainer™
BrightBrainer™ is a research tool to quantify the levels of Cognitive Deficit and evaluate the effect of bimanual Integrative Cognitive Exercising in individuals with full or partial upper limb mobility.

About Integrative Cognitive Exercising
BrightBrainer
is an engaging serious-gaming computer based platform that also engages its user's whole arm and fingers. Such moderate upper body exercising stimulates additional functions (e.g. blood flow, mechanical cortex centers, cross connections between lobes).  BrightBrainer bimanual nature of exercising allows game playing with increased cognitive load and divided attention.
This combination of stimuli, called Integrated Cognitive Exercising, opens a new field for research for which BrightBrainer has been optimized.
Optional wrist weights, user-adapted games, and soon-to-be-announced accessories give the opportunity to explore this new field of Cognitive Research.1
In this context, the BrightBrainer enables:
Scientific publications related in the brain / cognitive / aging fields;
New Behavioral protocols development (e.g. related to successful aging) ;
Research grant generation.
1G. Burdea, C. Defais, K. Wong, J. Bartos and J. Hundal. Feasibility study of a new game-based bimanual integrative therapy. Proceedings 10th Int. Conference on Virtual Rehabilitation, Philadelphia, PA, August 2013.
Benefits to the Researcher
Through its serious-gaming interface, BrightBrainer acquires real time movement of both arms and fingers, stores game performance data and displays objective scores for Cognitive Domain Performances to include: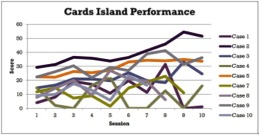 Orientation
Short term visual memory
Delayed recall of visual and auditory information
Executive function /Decision Making
Attention – Processing Speed
Working memory
Additionally the system calculates the total interaction time as well as arm-specific number of repetitions. When plotted over time (multiple sessions) these cognitive domain scores provide an objective way to assess user's cognitive progress.
Product Description and Key Features
BrightBrainer
 consists of a high performance computerized system with bimanual gaming user interface, coupled to a cloud-based remote server that stores research data and allows multi-site data viewing.
Optional small wrist weights (appropriate to elderly subjects) may be used for increased physical exercising of arms and shoulders in the process of playing the games.
BrightBrainer utilizes a library of proprietary Unity 3D games that target specific cognitive domains.  Games offer a flexible way to adjust cognitive difficulty, and adapt to the user's physical function.
BrightBrainer software consists of a session and protocol scheduler, custom multi-modal games and a scoring module.  An artificial intelligence module monitors each user's activity and performance and adapts the games in such a way that every session is engaging and rewarding.
Dementia research subject playing Breakout 3D in bimanual mode while wearing wrist weights. The game trains split attention.
… play some other games and then …
Stage 1 of Remember That Card (a delayed recall game) asks the user to select a card remembering its image and associate sound.  In Stage 2, after a number of other games are played, the user is prompted with the same array of cards and asked to pick the card selected in Stage 1 of the game.
Each BrightBrainer system can handle multiple users, in a single-site configuration, allowing easy and uniform administration of cognitive stimuli as required by the research protocol. Data are archived in a central, secure database.
Bright Cloud International's mission is to create new rehabilitation technology which uses virtual reality, custom therapeutic games and our intellectual property in order to make the therapy efficacious and fun! Our pioneering work has been shown to be effective for chronic research subject's post-stroke, traumatic brain injury, or cerebral palsy.  BrightBrainer is BCI's first commercial product, to help research communities explore, understand and improve Integrative Cognitive Exercising. BCI is a spin off from Rutgers University and is based in Highland Park, NJ, USA. The President of BCI is Grigore (Greg) Burdea Ph.D.
Product Brochure
Click Here to Download BrightBrainer Rehabilitation System brochure (PDF)
What Researchers Say about BrightBrainer™
"Graphics were clear and easy to understand. I found the tasks straightforward, brief and engaging. I like the portability of the system."

"I find BrightBrainer many different games very intuitive and ergonomic to use"

"Really motivating and nice visuals"

"The controller works very well and the games have excellent color. I liked the variability of the tasks and the simplicity of the system. Great job!"
22 researchers participating in the 10th International Conference on Virtual Rehabilitation gave BrightBrainer™ an overall rating of 4.36/5 in August 2013.
For More Information
Please consult with us for accessories and library of games, as well as multi-site, multi-year programs, and other innovative research models. For more information please Contact Us.
Disclaimer: BCI's products, services and web site are not an attempt to practice medicine or provide specific medical advice. Use of BCI's Products and Services does not establish a doctor-research subject relationship. Any health information on BCI's promotional materials and products and services, whether provided by the Company or by contract from outside providers, is provided simply for convenience. Please consult with your physician.